Francesco Petrarca
Arezzo 1304 - Argua 1374


Francesco Petrarca, also known simply as Petrarch, was born on July 20, 1304, in Arrezo, Italy. He followed his father, who had been exiled for political reasons, first to Pisa, then to Avignon. There he received instruction in grammar, rhetoric, and dialectic. He finally began studying law in Bologna for a time, then in Montepellier, but he never finished his course of studies.
During his time in Montepellier, he had the chance to experience the art of the troubador, which awakened his interest in Roman poetry and literature and decidedly influenced his later creative work. He returned to Avignon in 1326 and met the married Madonna Laura for the first time. She was his source of inspiration until her death. He dedicated his famous "Canzoniere" to her, a poetry collection dealing with his unrequited love for her.
With this form of love poetry, Petrarch had such a great influence on European poetry of the Middle Ages that a new style was named for him, Petrarchism, which lived late into modern times and influenced, among other traditions, the German Minnesang.
After journeys through France, Belgium, Germany, and Italy, during which he met his later students Boccaccio and Cola di Rienzo, he returned to Vaucluse in 1337.
For the next few years, he dedicated himself exclusively to his work. Within the context of Italian literature, Petrarch's work represents the transition from a medieval tradition, beholden to Dante, to a modern literature. This is mainly because of his introduction of Italian as the langauge of his poetry.
In his "Epistulae," Petrarch's humanistic attitude is shown in full. Also, the first depiction of nature in European literature appears here: a description of climbing Mount Ventoux, from whose pinnacle Petrarch described the surrounding landscape.
Another work in Italian is the allegorical-didactic poem "Trionfi," a religious work in which his humanistic education is fully revealed. In 1341, Rome reintroduced the old Roman tradition of the crowning of the "poeta laurentis" (poet laureate), in order to appropriately honor Petrarch. In 1353, he went to Milan in order to put his diplomatic abilities to use in the service of the viscount. He stayed in Venice in 1362.
Petrarch returned to Argua in 1368, where he died on July 18, 1374.

Publius Ovidius Naso
Fasti
4,218 $
Details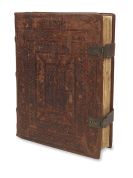 Gullielmus Duranti
Rationale divinorum officiorum
1,110 $
Details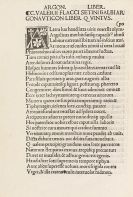 Valerius Flaccus
Argonautica
1,110 $
Details